When at He-Ja Motortechnics we get the small KTM 85cc in our hands, right away in the beginning we run into problems, were it concerns the crankshaft, which is not produced in the standard we would like it to be.
What is the problem?
In the new models of the 2004 and 2005 bikes partially the greasing of the bigend does not work well.
This problem is caused due to the fact that during production on one side of the connection-rod, at the bottom section, the opening is not been made in the proper way.
It means that when the connection-rod is assembled with these wrong item at the right-hand side, the shim runs hot and breaks down.
In spite of the fact that the KTM factory have tried to solve the problem, and has changes it a bit at the 2005 model the problems still occur.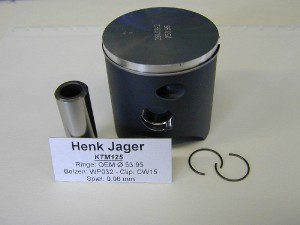 This piston for KTM, can be used in several engines with a pistonpen hight of 22.00 mm. The piston is also provide in pen height of 21.5 and 21.0 mm. The diameter of the piston pen is 15 mm.
Also the pen boring has been placed forward one mm and because of this comes an improved partitioning of strengths, and one has less trouble of slamming and sticking of piston ring in the groove.
Furthermore we removed material at the exhaust side underneath the feather to provide space, so the ring is not easy clenching in.
This is a forged piston of a special material composition. We also use a very special piston feather of the "half keystone " type, on which a special coating have been introduced.
Advantages of this type of piston:
Longer running time (we have tested until 25 hours). Less wear (after 25 turn hours 0.02 mm).
By the use of a special piston bottom, with more space than the standard piston we obtain a better refrigeration.
Place of the lock feather pen right to the inlet side.
On order we make this piston on customers demand were it concern pen height. He-Ja pistons are available in size's : 53.94 -0,95 -0,96 -0,97 -0,98 mm.