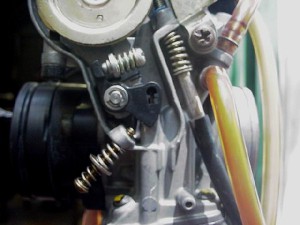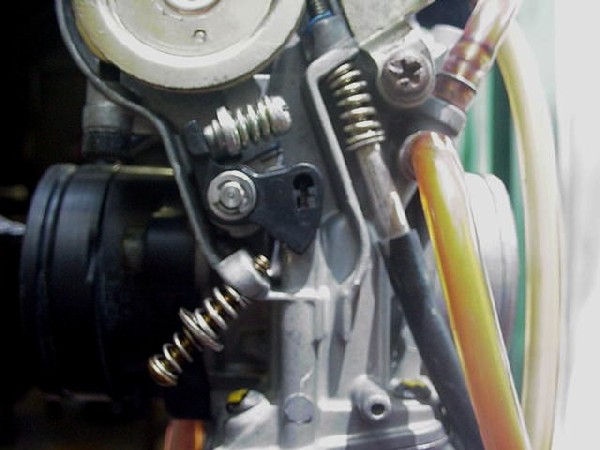 A regulator stop for the acceleration pump of Keihin. Already longer in use at Yamaha but now also useful on KTM the tip of fourstroke-goeroe Brian Kinney who on the bikes of Yamaha's Tim Ferry mounted this attachable stopper on the acceleration pump of the Keihin carburettor, which works damned good. Just follow the instructions on the attached link and ready you are.
When you purchase a new KTM you better start first remounting and checking your T-bone of your steering head and than in particularly check the piece on cracks.
You can see if your piece is one made after the period of the material errors, by looking at the lower part of it. At the piece you should see some signings in a circle with a factory code. The numbers 2 or 7 states that you should contact your KTM concessionaire to hear if nothings the matter with it.
Check after each your front and back wheel spokes. The spokes on the 02 and 03 models run lose in particularly in the beginning. Also regularly check the bolts in the rear sprockets. It occurs that these walk around and leave you. We suggested you put a bit of loctite on it.
The oil seals in the front fork will leak sometimes something. Take care that you let the air escape after each run on the bike. When you assemble the front fork for maintenance always put fresh new seals in it. Also we you suggested you to secure the crankcase-bearings by means of some centerpointpits, herewith you prevent that (like with some riders already the case has been) the oil seals runs out (and you also)
On almost all SX bikes it is particularly irritating that the front fender doubles up between the wheel on a firm landing. Go and put a fender of the Enduromodel on it and your wasting not many for the show.
The inner tubes mounted on your new KTM are from the Cho-San branch. They6 are nicely light but thin. To occur that on each angle of the circuit you have to stop with a flat tire, we recommend an extra thick inner tire such as Pirelli or Dunlop.