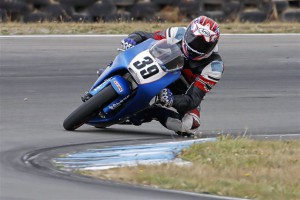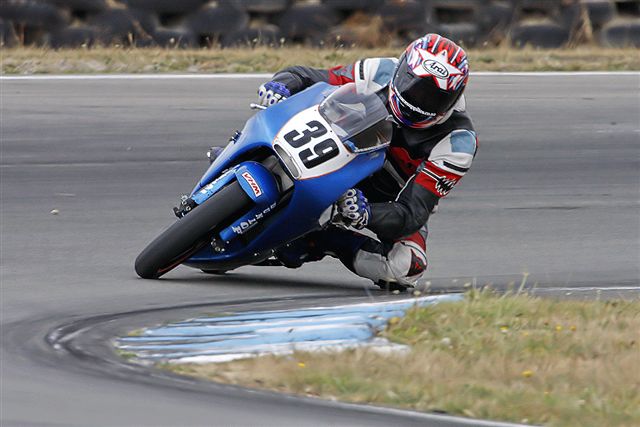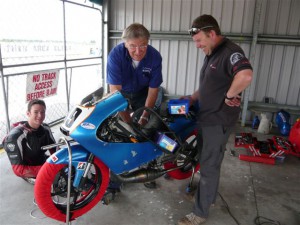 It should be known that sometimes we stay in New Zealand with our family. But sitting down is not our task over there, as sit back means you are not going forward whatever. And by doing so we have already acquired a lot of satisfied customers on the other side of the world.
The business to New Zealand began with MX parts and kits, but recently there is a growing interest in our racing kits for road racing purpose. Kevin Goddart of Race Supplies NZ (importers of our Dutch pride VHM) has bought many things from us and now we also have brought him a Honda RS125 kit and built it on the engine of the 2009 New Zealand champion Tim McArthur.
Mc Arthur is 21 years young and by now five years in the 125cc class. Last year, he participated in the National Road Race Championship and won it. During the week he is working as a flight instructor and therefore one may say he has for sure speed in the blood. The pictures are from the test/training days that we have recently done on the Road race circuit Raupuna Park near Crhistchurch.
After one days testing, it was agreed that everything went very well and even very good lap times were obtained including a new personal lap record.
The next races for the NZ Road Racing 125cc championship Tim will use the He-Ja kit, and if the results are like they are now, Tim will be using it than the rest of the season.
We have also (before we went on vacation) sold a 125cc Honda Kit to Australia. Soon we Rolf Plenter (my son in law) and I will fly to Melbourne to see the whole set-up there and assist the buyers in building and adjusting. Also we will help them to learn the intricacies of setting the THOR engine management system.