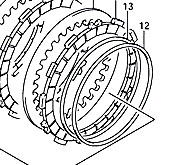 In the past we were asked to solve a lot of clutch problems, and in particularly this was for young riders first year out on a 250cc four stroke) Many of them were on Suzuki, but it also occurs on other branches.
The main reason this happens is because the younger riders do not have that particular 4 stoke feeling and then use the clutch to often, with the above mentioned result.
On this drawing we show you our solution. Here we place a thin steel ring, together with a springing behind the clutch packet in the same way as in the 450 c. By doing so, the responding of the clutch becomes a bit slower, but the problems are over.
look at number 12 en 13.